Decentralized ventilation unit FLOW 40
FLOW 40 – with built-in humidity sensor.
---
FLOW 40 is a wireless wall-mounted dual-flow decentralized recuperation unit with built-in humidity sensor and Free Cooling function.
The recuperator combines excellent air exchange and purification performance. Thanks to two connections and F7+G4 filters, simultaneous supply and extraction of filtered fresh air is ensured in the room.
The device is quiet in operation. Acoustic comfort is ensured thanks to improved facade noise reduction and sound pressure level. Only 18 dB in the first speed! The absence of air ducts prevents acoustic bridges and noise transfer between rooms.
The recuperator is perfectly designed for versatile installation during residential renovation or energy efficiency improvement.
TUV certified heat exchanger: Helty FLOW provides heat recovery with an enthalpy-type cross-flow recuperator with an efficiency of up to 91%. Thanks to the Enthalpy recuperator, the air is not dried and part of the moisture is returned back to the room, and no condensate drainage connection is necessary.
Operation: The FLOW 40 unit provides 4-speed air regulation according to need, boosted flow and night mode function. In addition, the device is equipped with a hydrometric sensor that independently controls the humidity level in the room and automatically adjusts the ventilation in such a way as to prevent the accumulation of condensate and the formation of mold. Single-room ventilation allows you to adjust functions and performance based on the actual needs of each room, providing efficient system management and personalized comfort.
Cooling function: When the outside air temperature is lower than the one in the room, the user has the option to activate the Free Cooling function, which will provide free cooling of the room based on the temperature difference. For example, in summer evenings, when the outside air is cooler than in a heated room during the day.
Control: Through the control panel located on the machine.
Installation: FLOW 40 does not require an air duct system. It is built into the wall and only the decorative end panel remains visible on the outside. The use of prefabricated components without an air duct system makes this wall-mounted recuperator easy to install. The FLOW 40 recuperator can be installed on walls of various thicknesses (min 315 - max 517 mm), both with plaster finish and with thermal insulation. The device is installed in the wall, leaving only the decorative end panel of the device discretely visible on the wall.
Maintenance: The unit requires minimal maintenance - the user only needs to replace the filter when prompted by the LED warning light display. Technical assistance of a specialist is not required for the exchange!
FLOW 40 offers all the benefits of heat recovery ventilation, simplifying design and reducing aesthetic impact, size and maintenance!
---
ADDITIONAL OPTIONS: Depending on the installation context, the recuperator can be equipped with different decorative end panels:
Metal (White) - which can be painted in any color if necessary to match the interior of the room
Organic glass - White or Black. Fixed on magnets for easier filter replacement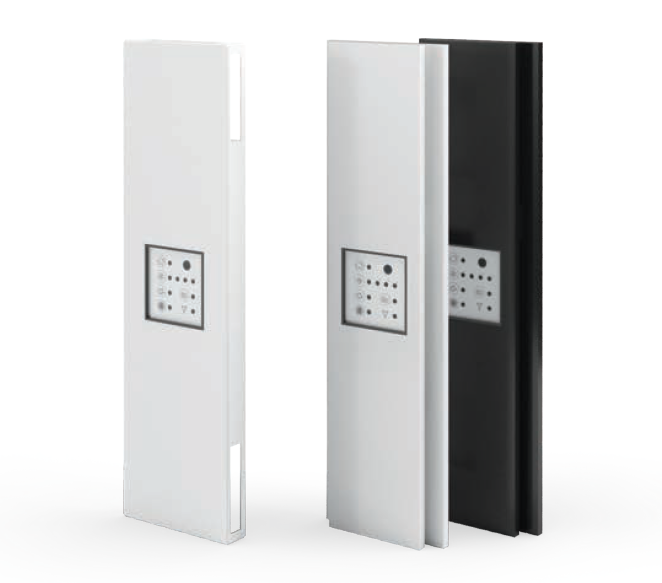 ---
ADVANTAGES:
Built-in humidity sensor

Free Cooling Option

On / Off LED panel

Quiet and energy-efficient operation

Discreet solution with hidden installation in the wall
---
COMPLETE WITH:
Control panel (located on the machine)

For outdoor facade gratings

Insulated built-in housing
---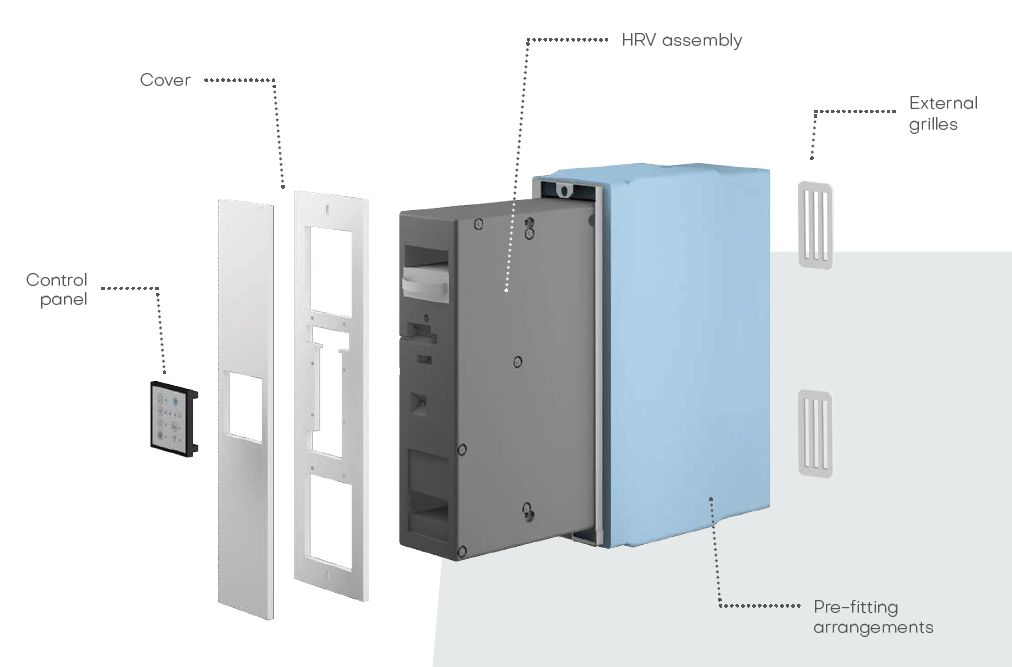 ---
TECHNICAL DATA:
| | |
| --- | --- |
| Manufacturer: | HELTY |
| Country of manufacture: | Italy |
| Recovery efficiency: | up to 91% |
| Heat exchanger: | enthalpy cross-flow |
| Sizes (HxLxP): | 108 x 408 x 268 mm |
| Sizes of built-in housing (HxLxP): | 145 x 473 x 517 mm |
| Weight: | 4 kg |
| Air flow: | 10/17/26/37/42 m3/h |
| Noise level: | 15/20.9/26.3/34.5 dB(A) |
| Noise level on the facade side: | 45 dB |
| Filters: | F7 + G4 / G2 |
| Electricity consumption: | 3,6 - 20,0 W |
| Power connection: | 230 V AC |
| Operating voltage: | 24 V AC |
| Max. current consumption: | 0.17 A |
| Energy efficiency class: | A+ / A / E |
| Modbus RTU: | rs485 |
---
---