Supply diffuser DEC DVSR with mounting frame Ø125 mm
Modern supply (DVSR) and exhaust (DVSER) air diffuser with mounting frame and built - in seal.
Diffuser is an element that is mounted directly on the diffuser box or its extension duct (at the ceiling). This is the end mechanism of the entire ventilation system. With its help it is possible to distribute the air in the rooms correctly.
DVSR and DVSER are diffusers of the standart series, which stood out with a modern design look and fit perfectly into the interior of a modern home.They are white with luster (RAL 9010) and made of powder - coated steel sheet. The valve body has a foam seal and a rotating disc that allows you to evenly adjust the amount of supply and exhaust air.
The air diffusers are mounted with metal clamps in the mounting frame or directly in the round ventilation duct. To facilitate the installation of the diffuser, the transverse groove of the galvanized mounting frame has a built - in seal that additionally protects it from slipping. There are special holes on the side of the frame construction to fasten (screw) it to the ceiling.
Key product features:
modern look

low noise (thanks to additional sound - insulating foam on the rotating disc of the supply valve)

quick and easy assembly (insertion)

easy to measure airflow
Manufacturer: DEC International
Country of origin: The Netherlands
Available sizes: Ø100 mm, Ø125 mm and Ø160 mm
Dimensions of exhaust (DVSER) diffusers:

Size (mm)

Ø 

100

Ø 

125

Ø 

160

A

100

125

160

B

135

160

195

C

15

15

15

D

125

150

185

E

99

124

159
Dimensions of supply (DVSR) diffusers: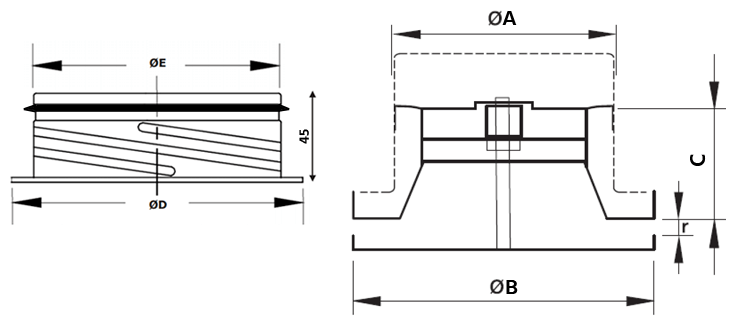 Size (mm)

Ø 

100

Ø 

125

Ø 

160

A

100

125

160

B

135

160

195

C

60

60

60

D

125

150

185

E

99

124

159