Direct set: Fan/Humidifier/Cooler HEPDH
DIRECT: Fan/Humidifier/Cooler HEPDH
---
Don't have an air handling unit? Then HomEvap Direct is perfect for you!
The Direct system is equipped with a quiet, energy - efficient fan that allows you to distribute cooled and humid air to your living or working environment.
Direct system performs 2 functions:
moisturizes dry air during the winter

cools the heated room air in summer
---
Operating principle:
HomEvap Direct aims for energy - efficient, quiet and safe air cooling and humidification. The cooling function is to maintain a pleasant temperature in the house in summer, while humidification will provide excellent relative humidity in winter. Such a system is installed inside the building, where it recirculates the air in the building, cooling or humidifying it depending on the season.
Cooling:
HomEvap Direct is installed on an air duct where the room air is transported through a wet matrix. It is able to cool the air from, for example, 29C/30% to 20C/75%. The efficiency of the adiabatic cooler is 80%.
Humidification:
If the supply air humidity is lower than the one set in the controller, humidification is started. The principle of operation is as follows: The air handling unit heats the incoming outdoor air, as a result of which the relative humidity decreases, the dry air enters the HomEvap, which, using the principle of water evaporation, raises the humidity to the value set in the controller. However, given the enthalpy line of the Molier diagram, the air cools down and air temperature compensation is required. Only when the air temperature falls below 17°C ,  the built - in electric PTC heater activateS. In this case, the maximum wetting capacity is 5 kg/h.
IMPORTANT!
HomEvap Cooler operates in a limited air output range, exceeding it may affect its efficiency in cooling and humidifying the temperature.
User safe:
Thanks to the patented, built - in LegionSafe water filter, there is no risk of multiplication of legionella bacteria. Before the water enters the humidifier matrix, it passes through a LegioSafe filter, which makes it completely safe for the occupants of the building. Only fresh water should be used. If there is no need to humidify the air, the matrix is ​​completely dry. The included SHC80 duct sensor measures the relative humidity and duct temperature in the dehumidifier. The sensor guarantees the best efficiency and safe operation so that no condensation forms in the duct behind the humidifier.
The built - in electric PTC air heater has several protections:
1. Mechanical safety protection to ensure that the air heater does not consume more electricity after reaching a maximum temperature of 85 ° C.
2. Equipped with an additional temperature sensor that shuts off the air heater at too high temperature.
---
Advantages:
Legionella safe

Quiet

Operates fully automatically
---
The cooler comes with:
Legionella filter

El. air heater

Power cord with plug (1m)

Humidity sensor

Wireless wall controller
---
Assembly scheme: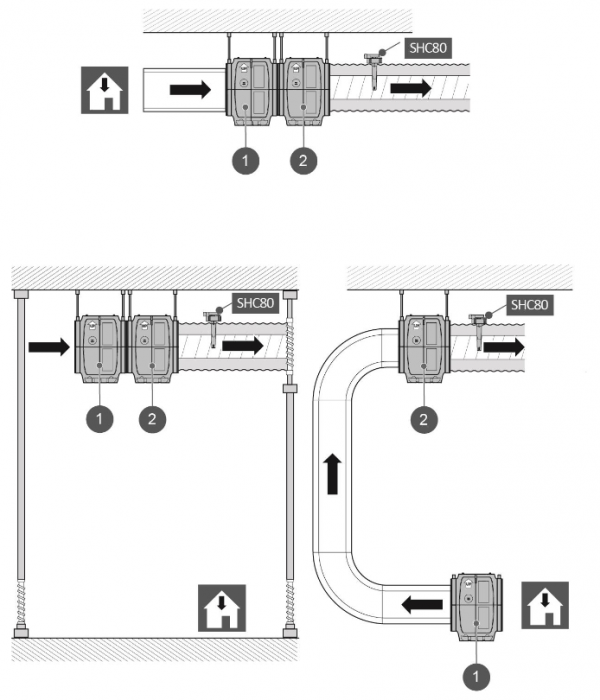 ---
Technical data:
| | |
| --- | --- |
| Dimensions (LxWxH): | 258x344x335 mm |
| Wetting capacity: | 0-4 l |
| MAX cooling capacity: | 1950 W |
| Power consumption: | 20 VA (with active Electric heater 900 VA) |
| MAX water consumption: | 5 l/h |
| Water supply connection: | 3/4 internal thread with connection 4 mm |
| Water drainage connection: | 15 mm hoses with sleeve 50 cm |
| MAX air flow: | 600 m3/h |
| Duct connection diameter: | Ø200 mm |
---
---