Adibiotic Cooler HEPC
HomEvap Cooler HEPC
---
HomEvap Cooler is installed on the exhaust duct of the ventilation system. The extract air is cooled, which in turn cools the recuperator of the air handling unit. Thus, the hot outdoor intake air in the recuperator is cooled. HomEvap Cooler makes air cooling much more efficient both at night and during the day. 
---
OPERATION  ALGORITHM: 
HomEvap Cooler must be installed on the extract air duct, where the room air is transported through a wet matrix. It is able to cool the air from, for example, 29C/30% to 20C/75%. The efficiency of the adiabatic cooler is 80%. The cooled air is stored in a heat exchanger (recuperator), which cools it considerably. The warm outdoor air is cooled before it is introduced into the room by flowing through a cool heat exchanger.
IMPORTANT! 
HomEvap Cooler operates in a limited air output range, exceeding it may affect its efficiency in temperature cooling. This technical solution can be used for all air handling units that do not use an enthalpy type heat exchanger. Installing a HomEvap cooler on a unit with an enthalpy type heat exchanger can significantly increase the relative humidity of the air in the room!
Thanks to the SHC80 duct sensor, which controls both temperature and relative humidity, the highest efficiency and safety is guaranteed with regard to the possible condensation in the duct behind the cooler.
---
Benefits:
Quiet operation

Operates fully autonomously
---
The cooler comes with:
SHC80 combined Humidity / Temperature sensor

Wireless controller
---
Mounting scheme: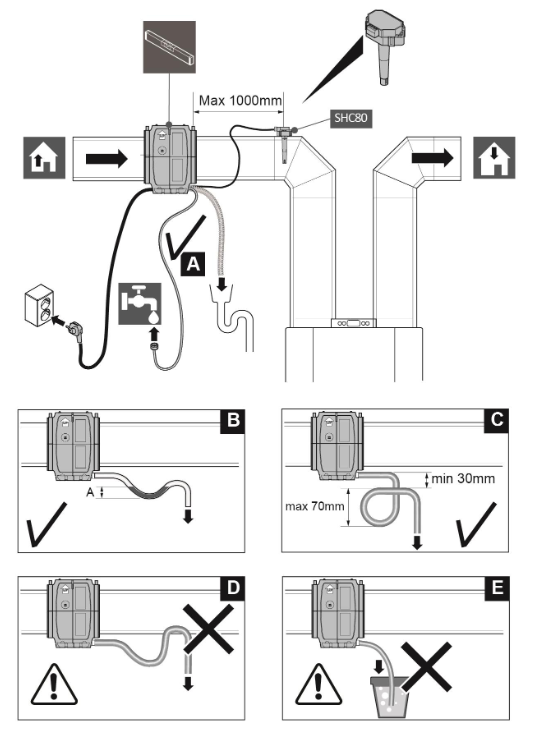 ---
Technical data:
| | |
| --- | --- |
| Dimensions (LxWxH): | 258x344x335 mm |
| MAX cooling capacity: | 1950 W |
| Electricity consumption: | 20 VA |
| MAX water consumption: | 5 l/h |
| Water supply connection: | 3/4 internal thread with connection 4 mm |
| Water drainage connection: | 15 mm hoses with sleeve 50 cm |
| MAX air flow: | 600 m3/h |
| Duct connection diameter: | Ø200 mm |
---