Polycarbonate diffuser box: 2×Ø75 / Ø123 mm for extension / Under-ceiling version
Diffuser boxes are made of durable polycarbonate, supplemented with polypropylene connection outlets with a bactericidal additive. They have factory-fitted seals, which significantly speed up the installation of the system in principle ("CLICK") and guarantee the tightness of the system. Designed for connection with flexible air ducts.
Available in two versions:
with direct exhaust outlet for Ø125 mm diffuser or

Ø123 mm for additional extension
It is possible to order extensions 15 cm, 30 cm and 50 cm!
Diffuser boxes are available in two versions:
| | |
| --- | --- |
| | Connection with Ø123 mm outlet for extension Ø125 mm. You can choose one of the available extensions or extend with a flexible air duct |
| | Direct connection Ø125 mm - the diffuser with Ø125 mm is mounted directly in the box |
Polycarbonate boxes are available in two sizes: 2xØ75 mm and 3xØ75:
| | |
| --- | --- |
| | Under-ceiling version: Can be installed under a suspended ceiling |
| | Floor version: Can be installed on the floor (eg. when installing by drilling through the floor of the 2nd floor / ceiling coverings of the 1st floor) |
 Properties of polycarbonate boxes:
They are made of durable polycarbonate

They can be installed in the insulation layer of the ceiling or under the insulated ceiling

Equipped with a durable polypropylene "CLICK" mechanism, which already has a seal built into the factory, which speeds up their installation and guarantees the tightness of the system

Diffusers with direct connection Ø 125 mm, where the diffuser can be installed directly in the box, or with Ø 123 mm, which can be extended

If, for example, only one connection from a Ø 75 box is used (minimum 2 outlets), the free outlet must be closed with an end cap.

They have a certificate from the National Institute of Hygiene
Dimensions of the box under the ceiling 2xØ75 and 3xØ75: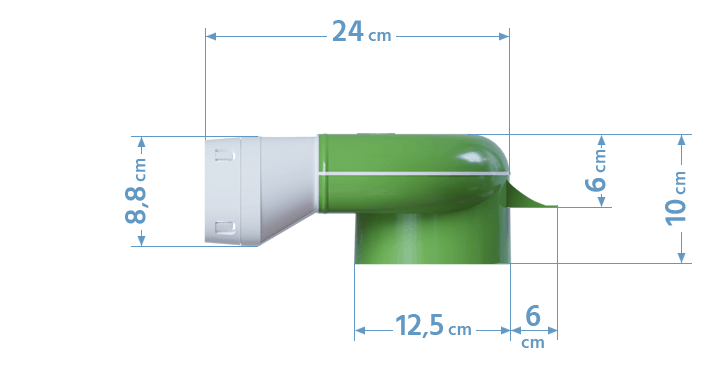 Dimensions of floor boxes 2xØ75 and 3xØ75: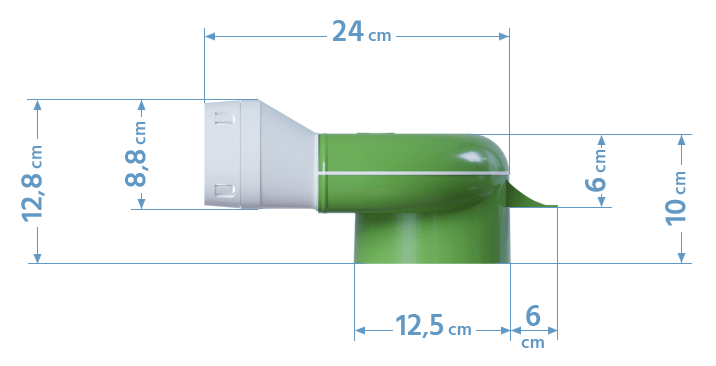 Size 

    2x75/

Ø

123 un 

2x75/

Ø

125

      3x75/

Ø

123 un 

3x75/

Ø

125

Height (mm)

6

6

Connection outlet height Ø75 mm

8,8

8,8

Width without fastenings (cm)

26

28,2

Width with fastenings (cm)

30,5

30,5

Length without mounting bracket (cm)

24

24

Length with mounting bracket (cm)

30

30

Air outlet diameter Ø123 and Ø125 mm (cm)

4

4

Total height of the box (housing + bracket) (cm) - for under-ceiling version

10

10

Total height of the box (housing + bracket) (cm) - for floor version

12,8

12,8